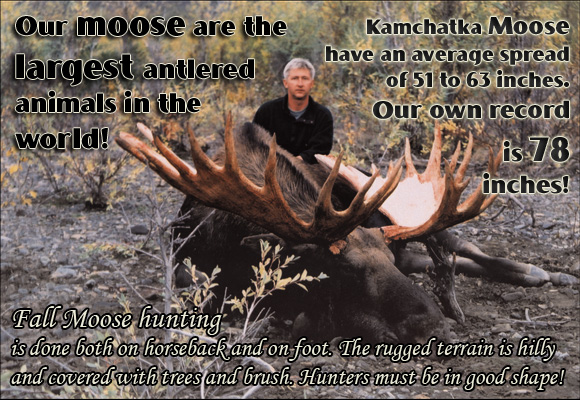 EASTERN SIBERIAN MOOSE are found throughout both the northern and central parts of Kamchatka.
MATURE BULLS weigh nearly 1,500 pounds and the antler spread of a bull ranges from 51 to more than 63 inches! The biggest moose taken by one of our client was nearly 78 inches.
POPULATION ESTIMATES by our scientists and wildlife biologists confirm there are about 2,500 animals in the north and another 2,000 in the central part of the peninsula.
COMBINED HUNTS FOR both moose and brown bear can be done, but the odds of taking both in a single trip are about 50/50 which is far below our normal success rate for either.
HUNTING SEASON for moose is broken into two calendar windows.The Fall hunts, during the rut, begin on or about the 1st of October. The Winter hunts begin in the middle of November and the season continues through mid-December.
IN NOVEMBER AND DECEMBER there is usually snow on the ground.Tracking moose on foot is one of the most exhilarating and rewarding experiences in the hunting world, and hunters should be in good physical condition for this kind of hunt.
OUR OUTFITTING COMPANY has been in operation for seventeen years. Much of that time we've been conducting hunts for the most famous agents in the hunting world. In recent years we've become independent and now offer our services directly to hunters.
Sample Moose Hunt Itinerary
OUR MOOSE HUNTS take about two weeks, including travel time. Nine of those days are dedicated to pure hunting from our camps located wilderness base camps. It takes a full day after arrival in Kamchatka from Moscow to travel nearly 200 miles north of Petropavlovsk to the perimeter of our remarkable hunting region.
DAY 1, THE FIRST IN KAMCHATKA
The Aeroflot flight from Moscow crosses 9 time zones, taking less than 9 hours, and arriving in Petropavlovsk, Kamchatka at ten the next morning. The Domodedovo flight arrives two hours later. Retrieving luggage is easy and uncomplicated, (since everyone already cleared customs in Moscow). Again, you'll be met by our English speaking representative, who will accompany you on our comfortable bus during the first leg of the journey, to Milkovo.The drive takes about 4 hours, with scheduled breaks along the way.There's coke, water, and beer on board for the trip.
We'll stop for lunch in Milkovo, then travel the remaining 3 hours in a Russian ATV (their version of a half-track) to camp, dead-center in the most heavily populated moose country on the Kamchatka map. The rest of the day will be yours to get acquainted with the staff, camp, check your guns, and organize your gear.
DAYS 2 TO 10 ARE DEDICATED TO HUNTING
DAY 11, RETURNING TO PETROPAVLOVSK
Hunters reverse the route, travelling fist by ATV, then by bus to Petropavlovsk, for an overnight stay at either the Avacha or the Petropavlovsk Hotel in our capitol.
DAY 12, RETURN FLIGHT TO MOSCOW
The eastern flight across nine time zones arrives in Moscow at the same time of the day it left Petropavlovsk. There hunters are met by our English-speaking representative who will take your firearm from the airport authorities, help with the luggage and take you to the hotel.We strongly recommend using the Sheremetyevo Airport Hotel, eliminating city transfers and traffic delays, and simplifying your departure the next morning.
RETURN FLIGHT TO THE STATES
Our English-speaking representative will take you from your hotel to the airport, and provide the veterinary certificates necessary to take your trophy out of country, and assist with the preparation of your declaration for your trophy, firearm and the cartridges left after your hunting trip.
Details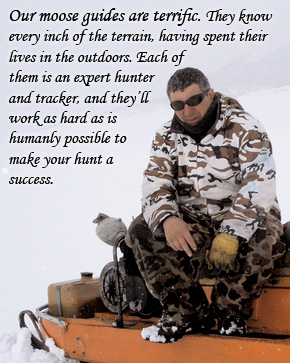 WINTER MOOSE HUNTS BEGIN as soon as we have enough light to see game. After a hot and hearty breakfast, hunters and their guide (our ratio of hunters to guides is 1:1) will load up in a snow-machine and head out for a full day of hunting. Winter moose hunting is conducted in the hills and wooded mountain slopes like the fall hunting, and also targets the low lying open valleys and frozen marshes where large concentrations of moose congregate. Using a snowmobile, guide and hunter will cover miles of terrain looking for fresh tracks, or find yourselves in an open area and glass for animals. Once a trophy animal is spotted, you will walk, snowshoe or ski in for the kill. This type of hunting can be physically demanding and is better suited for fit hunters. We have snowshoes and skis available in camp for hunters.
OUR WINTER MOOSE CAMPS use double occupancy wood cabins and feature wood-fired stoves, electricity and offer plenty of room to unpack and get organized. A separate building acts as the kitchen and dining area and is a nice place to relax and re-live the day's hunt. Meals are home-cooked, simple fare and offer plenty of calories to get you through the hunt. Camps are also equipped with Russian banyas.
WINTER MOOSE HUNTING is best suited for hearty hunters in good physical condition. Daytime temperatures will range in the -10 to 15 Celcius with snow depths of up to two feet. Night time temperatures drop considerably. Clothing and footwear must be suitable for riding on snowmobiles as well as hiking or cross-country skiing long distances (several miles) each day.
EQUIPMENT, CLOTHING, AND GEAR We'll send very detailed information on absolutely everything that you'll need to make your hunt successful and comfortable once the trip is scheduled and deposits are collected.
SHOTS AT MOOSE AND CALIBER OF GUNS
Shots at moose range between 100 and 400 yards, but most are around a hundred and fifty yards. Flat shooting, all-weather .300 caliber (or equivalent) scoped rifles are preferred. A compact 10X40 binocular is highly recommended. Hunters should plan on bring 40 cartridges. Premium bullets with controlled expansion are preferred.

OUR HUNTING CAMPS are located nearly 400 miles north of Petropavlovsk, dead-center in the middle of nowhere. Our comfortable tent camps are positioned in the areas where we know from years of experience that moose are going to be concentrated. Our scouts will have reconnoitered the area surrounding your hunt, and have an idea where moose will be when you arrive.
EACH OF OUR GUIDES IS an expert hunter and thoroughly familiar with the area and the habits of moose. We conduct pre-season scouting excursions to insure there are plenty of quality animals in our outfitting region.
YOU'LL need to bring a sleeping bag (appropriate for the season you are hunting!) and steel themos for hot tea or coffee
WE PROVIDE electricity (220volt), satellite phones for emergencies, a shower and kitchen in every camp. Our professional cooks prepare and serve healthy, hearty European and Russian cuisine. We use fresh foodstuffs, fruits and vegetables, and our food would be the pride of many hotels. You'll enjoy the hot, steamy soups that are the staple of nearly every Russian meal. During the day, your guide will carry a filling lunch and your thermos with tea or coffee when you leave the camp.
WEATHER IN THE FALL is generally pleasant. September days can be as low as the 30's in the days, but are usually warmer, and hunters can expect frost at night. Quality rain gear is essential, and as the weather turns colder in October the country can be covered with snow.
Packages
NORMALLY we don't use helicopters to transport our hunters to our remote camps, though in 2007 this option is available for an additional fee.
After hunters arrive in Petropavlovsk they'll usually take a bus to cover approximately 250 miles, then transfer to a Russian ATV for the last leg of the journey to camp.
INCLUDED IN OUR hunting packages is the required invitation that you'll need from our government to get your visa, all necessary firearms permits, trophy permits, and the veterinary certificate.
We'll provide an experienced and competent English translator and a very qualified and seasoned guide. You'll have an English-speaking receptionist when you arrive and depart from the airport in Petropavlovsk to assist in the smooth entry and exit from Kamchatka.
The bus transfers, guide service, field preparation of the trophy, all meals and camp accommodations and the trophy fee are all part of the package.
What isn't included are your accommodations prior to and after the hunt in Petropavlovsk, alcohol, any items of a personal nature, or gratuities for the staff.
You'll need to pay for your air transportation to and from Petropavlovsk, and the excess airline baggage charges that you'll accumulate for your trophy or trophies.
Really, from the time you arrive in Kamchatka until you depart you will be in our hands.We have been in the business of outfitting hunting and fishing trips in Kamchatka for nearly two decades and our reputation speaks for itself.
Just contact our references – they'll tell you…