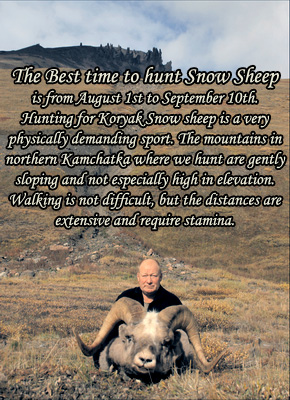 KAMCHATKA TROPHY HUNTS outfits hunts for two of the most challenging sheep trophies on planet, the Kamchatka Peninsula – Bighorn Sheep, and Koryak Snow Sheep.
KORYAK SNOW SHEEP are found in the Koryak District, (inhabiting the Koryak plateau, and the Oljutorsk rocky sea-shores north of the 60th parallel) at elevations between 1,600 and 8,200 feet.
A MATURE KORYAK SNOW SHEEP RAM has an average length of horns in the mid-thirty-inch class with exceptional trophy ram pushing 40 inches. One of our hunters shot a ram with a 38-inch curl.
POPULATION ESTIMATES by our scientists and wildlife biologists confirm that there are 2,500 Koryak Snow Sheep on the Kamchatka Peninsula.
Koryak Snow Sheep Hunt Itinerary
THE ITINERARY FOR SNOW SHEEP hunters is very different from that of those destined to the Bighorn camps because the Koryak Snow Sheep range is more than 500 miles farther north. The entire package for snow Sheep hunters requires two more days than the 14-Day Bighorn Sheep package.
Hunters first fly to Petropavlovsk then connect by jet to Ossora and helicopters to Tilichiki and finally to camp. Flights to Ossora do not mesh with the arrival times of flights into Petropavlovsk, and hunters must spend their first night in one of the hotels of our capital.
AIRPLANE FLIGHTS TO OSSORA are scheduled only four days a week, and the arrival in Petropavlovsk needs to be coordinated to smoothly connect with one of those departure days. Cost of the hour and a half jet flight to Ossora is $670 (not included in the package) and usually arrives late in the day, requiring an additional overnight. There are no local hotels and very nice accommodations and meals are arranged for at a private apartment.
The next morning, hunters board helicopters for the hour-long flight to Tilichiki (non-inclusive cost is $325) where they'll be met by our staff and transferred on the final leg of the trip by a different helicopter flight to one of our remote Snow Sheep camps.
The next ten days are dedicated to hunting, based at one of our extremely remote sheep hunt camps, far away from civilization and completely inaccessible by foot. At the conclusion of the trip routing is reversed, with an overnight again necessary in Ossora.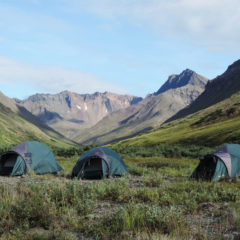 HUNTING AREAS for Koryak Snow Sheep are located in Northern Kamchatka, where snow covers the terrain later than in the central part of Kamchatka where we hunt Bighorns.
In August, during daylight hours the temperature is from +10 degrees Celsius up to +20, and during night time from +5 degrees up to +15 degrees with the possibility of dropping to 0 and – 5 degrees. It's often rainy and foggy.
HUNTING SEASON BEGINS this year on the first of August and continues until the snow drives us out in late September. The most successful hunts are planned from during August and the first week of September.
OUR HUNTING AREA IS FAR off the beaten path and difficult to access and support, even with the use of helicopters. Most camps are set up for 2 to 4 hunters at one time.The number of hunters in camp does not adversely effect our success rate – one of the highest in Kamchatka . Snow Sheep hunting is done on foot and there are no horses available. Mature rams concentrate in small groups of five to fifteen animals.After finding a group of trophy rams, hunter and guide will determine the best way to close in for a shot.
EQUIPMENT, CLOTHING, AND GEAR We'll send very detailed information on absolutely everything that you'll need to make your hunt successful and comfortable, once the trip is scheduled and deposits are collected.
SHOTS AT SHEEP AND CALIBER OF RIFLES Shots at sheep range between 150 and 500 yards. Most are around two-hundred and fifty yards. Flat shooting, all-weather .300 caliber (or equivalent) scoped rifles are preferred. A high-quality, variable, water-proof, scope is highly recommended. You'll also need to bring high quality binoculars (10×40) and a good spotting scope with tripod. High-quality optics are indispensible in sheep hunting and can make the difference between harvesting a trophy and not.
ACCOMMODATIONS at sheep camp are simple, yet warm and comfortable, as all our camps are. Each site features roomy expedition tents, kerosene heaters, and sleeping cots. A separate kitchen tent is set-up for meals.
Sheep Hunting Packages
INCLUDED IN OUR HUNTING PACKAGES are the invitation that you'll need from our government to get your visa, all necessary firearms permits, appropriate trophy permits, and necessary veterinary certificate.
We'll provide an experienced, competent English translator and a very qualified and seasoned guide. You'll have anEnglish-speaking receptionist when you arrive and depart from the airport in Petropavlovsk to assist in the smooth entry and exit from Kamchatka.
The extensive helicopter service for all hunters to and from camps, guide service, field preparation of the trophy, all meals and camp accommodations and the trophy fee are part of the package.
A personal guide is provided for every Bighorn Sheep hunter, and a single guide is provided for each two Koryak Snow Sheep hunters. The difference in guide ratio is simply because our extensive experience has shown it to be the most productive method of hunting.
What isn't included are your accommodations prior to and after the hunt in Petropavlovsk, alcohol, additional trophy fees for other species (bears), items of a personal nature, or gratuities for the staff.
You'll need to pay for your air transportation to and from Russia, as well as the excess airline baggage charges that you'll accumulate for your trophy or trophies.
Really, from the time you arrive in Kamchatka until you depart you'll be in our hands.We have been in the business of outfitting hunting and fishing trips in Kamchatka for nearly two decades and our reputation speaks for itself.
We'll be glad to provide references.
WE PROVIDE satellite phones in case of emergency. Our professional cooks prepare and serve healthy, hearty European and Russian cuisine. We use fresh foodstuffs, fruits and vegetables, and our food would be the pride of many hotels. You'll enjoy the hot, steamy soups that are the staple of nearly every Russian meal. During the day, your guide will carry a filling lunch and a Thermos with tea or coffee when you leave the camp.
WEATHER DURING SHEEP season is generally not too cold. September days can be as low as the 30's in the days, but are usually warmer, and hunters can expect frost at night. Quality rain gear is essential, and as the weather turns colder in October the country can be covered with snow.