KAMCHATKA TROPHY HUNTS outfits hunts for two of the most challenging sheep trophies on planet, the Kamchatka Peninsula – Bighorn Sheep, and Koryak Snow Sheep.
KAMCHATKA BIGHORN SHEEP inhabit the mountains of Central Kamchatka at elevations between 2,000 – 8,200 feet in elevation. A mature ram will tip the scales between 80 – 95 kg (176 – 210 pounds), and the average age of the rams harvested by our hunters is 9 years old.
A MATURE KAMCHATKA BIGHORN RAM will sport an average length of horns between 85 – 95 cm (33 – 37 inches). The biggest trophy ram taken by one of our sheep hunters was a magnificent 41-inch monster!
POPULATION ESTIMATES by our scientists and wildlife biologists confirm that there are about 5,900 Kamchatka Bighorns on the peninsula.
Sample Bighorn Sheep Hunt Itinerary
OUR SHEEP HUNTS take about two weeks, including travel time.Ten of those days are dedicated to pure hunting from our strategically located wilderness base camps. It takes a full day after arrival in Kamchatka from Moscow to travel hundreds of miles north of Petropavlovsk to the perimeter of our remarkable hunting regions.
DAY 1, THE FIRST IN KAMCHATKA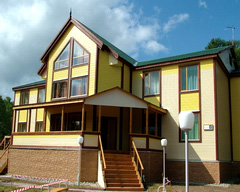 The Aeroflot flight from Moscow crosses 9 time zones, taking less than 9 hours, and arriving in Petropavlovsk, Kamchatka at ten the next morning. The Domodedovo flight arrives two hours later. Retrieving luggage is easy and uncomplicated, (since everyone already cleared customs in Moscow). Again, you'll be met by our English speaking representative, who will accompany you on our comfortable bus during the first leg of the journey, to Esso.The drive takes about 8 hours, with scheduled breaks along the way for lunch.There's coke, water, and beer on board for the trip to Esso, a cultural native center and one of a very few rural Kamchatka villages. There, guests spend the night in comfort at the Paramushir Hotel with a fine restaurant, bar, and pool.The hotel is a surprising and welcome contrast to the isolated village location.
DAY 2, THE FIRST IN CAMP
After a good night's sleep and breakfast you'll be taken to the heliport to meet the chopper. Helicopters don't usually begin to fly earlier than ten in the morning, after receiving weather conditions and the forecast for the peninsula.We'll inform you beforehand if there are going to be any anticipated weather delays. But, assuming the weather is fine, you'll be in the heart of the bear's kingdom and in our camp in an hour.The rest of the day will be yours to get acquainted with the staff, camp, check your guns, and organize your gear.
DAYS 3 TO 10 ARE DEDICATED TO HUNTING
DAY 11, RETURNING TO PETROPAVLOVSK
Hunters return as early as possible on the heli flight to Esso, then continue by bus ride to Petropavlovsk, for an overnight stay at either the Avacha or the Petropavlovsk Hotel in our capitol.
DAY 12, RETURN FLIGHT TO MOSCOW
The eastern flight across nine time zones arrives in Moscow at the same time of the day it left Petropavlovsk. There hunters are met by our English-speaking representative who will take your firearm from the airport authorities, help with the luggage and take you to the hotel. We strongly recommend using the Sheremetyevo Airport Hotel, eliminating city transfers and traffic delays, and simplifying your departure the next morning.
RETURN FLIGHT TO THE STATES
Our English-speaking representative will take you from your hotel to the airport, and provide the CITES and veterinary certificates necessary to take your trophy out of country, and assist with the preparation of your declaration for your trophy, firearm and the cartridges left after your hunting trip.
Kamchatka Bighorn Sheep Hunts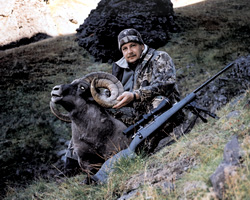 OUR GUIDES are inserted in the field before hunters arrive and will have various bands of rams located.We try to set our camps as close to the concentration of rams as possible without disturbing their daily life cycle.We are strong advocates of fair chase and never compromise this belief and practice.
FOR THE FIRST DAY OF HUNTING we start off relatively easy and do not walk a long distance.This allows hunters to get acclimated to the terrain and elevation. Guide and hunter will spend a lot of time glassing the countryside with binoculars and spotting scope with tripod. As dusk approaches hunter and guide will determine where and when mature rams will move to pasture and plan for the next day – we put the rams to bed. On the next day the hunt will be more targeted and we will make a play on the previously located rams.
SUCCESSFUL HUNTS for Kamchatka Bighorns depend on good weather and the physical ability of the hunters.You need to use every good-weather day for hunting. If you see one you like, take it because if you procrastinate, you may end up with nothing. It's often rainy and foggy in the mountains.All our guides are very experienced and good field judges of trophy-class rams. They'll help you to define the size of the trophy and once taken, skin the animal and prepare it for further transportation.
WEATHER IN THIS KIND OF hunting is 50% of the success rate. Hunters may have only 3 – 4 days of good weather during a 10-day hunt and must be able to capitalize on an opportunity. In August during daylight hours the temperature is +15-20 degrees Celsius, but it is usually windy and sunny weather can change to rain or fog very quickly. It's cold enough during the night to snow, by the end of the season.
Sheep Hunting Packages
INCLUDED IN OUR HUNTING PACKAGES are the invitation that you'll need from our government to get your visa, all necessary firearms permits, appropriate trophy permits, and necessary veterinary certificate.
We'll provide an experienced, competent English translator and a very qualified and seasoned guide. You'll have anEnglish-speaking receptionist when you arrive and depart from the airport in Petropavlovsk to assist in the smooth entry and exit from Kamchatka.
The extensive helicopter service for all hunters to and from camps, guide service, field preparation of the trophy, all meals and camp accommodations and the trophy fee are part of the package.
A personal guide is provided for every Bighorn Sheep hunter, and a single guide is provided for each two Koryak Snow Sheep hunters. The difference in guide ratio is simply because our extensive experience has shown it to be the most productive method of hunting.
What isn't included are your accommodations prior to and after the hunt in Petropavlovsk, alcohol, additional trophy fees for other species (bears), items of a personal nature, or gratuities for the staff.
You'll need to pay for your air transportation to and from Russia, as well as the excess airline baggage charges that you'll accumulate for your trophy or trophies.
Really, from the time you arrive in Kamchatka until you depart you'll be in our hands.We have been in the business of outfitting hunting and fishing trips in Kamchatka for nearly two decades and our reputation speaks for itself.
We'll be glad to provide references.
WE PROVIDE satellite phones in case of emergency. Our professional cooks prepare and serve healthy, hearty European and Russian cuisine. We use fresh foodstuffs, fruits and vegetables, and our food would be the pride of many hotels. You'll enjoy the hot, steamy soups that are the staple of nearly every Russian meal. During the day, your guide will carry a filling lunch and a Thermos with tea or coffee when you leave the camp.
WEATHER DURING SHEEP season is generally not too cold. September days can be as low as the 30's in the days, but are usually warmer, and hunters can expect frost at night. Quality rain gear is essential, and as the weather turns colder in October the country can be covered with snow.